A special trip to Japan. Let's enjoy the authorized DUTY FREE!
Japan is said to be good in public order, but there are a small number of non-offical duty frees. Also, although there is no problem under the law, however don't buy unnecessary things due to exaggerated advertising and and skillful information manipulation. In 2016, the Japan Tourism Agency has urged Chinese tourists to take the following precautions in order to enjoy shopping in Japan: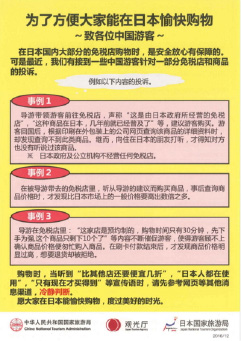 Most duty-free shops in Japan you can enjoy shopping with peace of mind. However, on the other hand, there are still foreign customers' complaints regarding to shopping at some duty-free shops.
For example, the following complaints are often received:
Case 1
Guided by a sightseeing tour guide to a store that was described as "specialized duty-free shop (*) run by the Japanese government", then I received compliments about a certain product that was "widespread in Japan for several years". I bought it because I was asked.
After coming home, I checked the website of the company displayed on the product, but I could not find the product, and I confirmed with a friend living in Japan that he had never heard of such a product.
(*) There are no specialized duty-free shops that are operated by the Japanese government or public institutions.
Case 2
I bought a product recommended by the tour guide at a duty-free shop, but later, when I searched for the price of the product and understood that I have bought it at a price many times higher than the general retailing price in Japan.
Case 3
At the duty-free shop guided by the guide, "This shop is for reservation only, shopping is only 30 minutes. Early wins" "This product is 10 items left." I have purchased the product without checking. After paying for the card, I realized that the item was extremely expensive and asked for a return, but he refused.
When shopping, during the purchase, if you are instructed by some statements such as "The discount is more than all other stores." "All Japanese people use it." "There is only a chance to buy now." We recommend that you calmly judge that information while also referring to information from third parties from the Internet. We sincerely hope that everyone can enjoy sightseeing and shopping in Japan and spend a meaningful time.
(National Travel Agency of the People's Republic of China/Japan Tourism Agency/Japanese National Travel Agency)
Be careful of these features. Features of an unauthorized duty free
Often away from the main tourist destinations
For example, when you take a tour, there are stores where you can get off the bus without any typical buildings. Also, be careful about the shops where they are described as "specialized duty-free shop operated by the Japanese government."
There are many non-commercial products, and you don't know them even you search them online.
There are cases where products that most Japanese people don't know which are sold with a compliment such as "The best-selling Japanese people" or "A long-time seller for 〇 years." Sometimes staffs want to sell their products excessively so that guidances or conversation become ridiculous and nonsense .
Originally, there are no Japanese staff specialzed in foreign tourists' guidance
Please be careful about shops that only tour customers enter (with no local Japanese). There is a possibility that the price has been set high so that a kickback-commision is paid to a bus driver or a guide.
Receive products right on the spot but the stores claim that it's DUTY FREE.
In locations other than Japanese airports and harbors, "DUTY FREE" can only be called at 3 locations of "an airport-type downtown duty free shop" in Tokyo and some cities in Okinawa. Except for the 3 mentioned shops, only TAX FREE notation is allowed to be used.
You can shop with confidence at an authorized DUTY FREE shop.
The authorized shop are safe stores that only handle genuine products in accordance with Japanese law.
Authorized stores do not engage in bad qualitied product purchase arrangements and are also used by Japanese traveling abroad, and the discount coupons posted are also officially approved by the stores. Let's plan your shopping carefully so you don't have to worry about your trip.